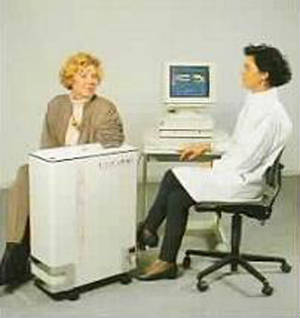 Mobile scanner in action
Scanning to assess risk of Osteoporosis
Croft Medical Imaging is a professional service operated by a State Registered Radiographer who has worked in the field since 1989. We are based near Oakham, Rutland in the East Midlands.
The scanner is mobile and can be located in any premises with a standard 13 amp power supply.

Clinics are currently held in Uppingham, Oakham, Enderby, Thurmaston, Stamford and Holbeach.

The scan involves measuring the mineral content of the bones of the forearm and comparing the result with a normal database. This measurement can then be used with other risk factors to assess the risk of Osteoporosis.
You do not have to undress and there are no injections. Scanning time is less than 10 minutes.